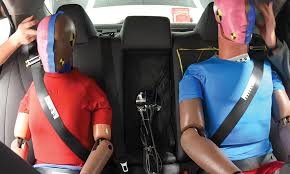 Indians have been provided a tragic reminder that car passengers not wearing seat-belts in the rear seat could make them vulnerable to the risk of fatalities in case of an accident. While we express our regrets on the recent tragedy where the precious life of Mr Cyrus Mistry was taken away,  and with due respects to the departed soul, we cannot but remind ourselves of the parallel in the Data Security scenario in India in terms of compliance.
For organizations trying to cover themselves against risk of regulatory backlash due to non compliance of data protection laws, GDPR Compliance was like the driver's seat belt the need of which they were fully aware and were trying to be compliant with.
The PDPB 2019 compliance was like the front passenger seat belt about which people were aware and were trying to start using.
But just like rear seat passengers never thought it necessary to wear seatbelts since they did not perceive the risk of non compliance, Indian industry does not consider ITA 2000/8 compliance or CERT IN guidelines compliance as requirements that they should consider.
I hope they realize that some times non compliance of ITA 2000/8 and CERT IN guidelines could lead to serious injuries and start wearing the Compliance seatbelts from now on.
Naavi