The budget speech of the Finance Minister Mrs Nirmala Seetaraman yesterday highlighted a project investment proposal to create three centers of excellence for Artificial Intelligence to be established in leading educational institutions to realize the objective of "Make AI in India and Make AI work for India".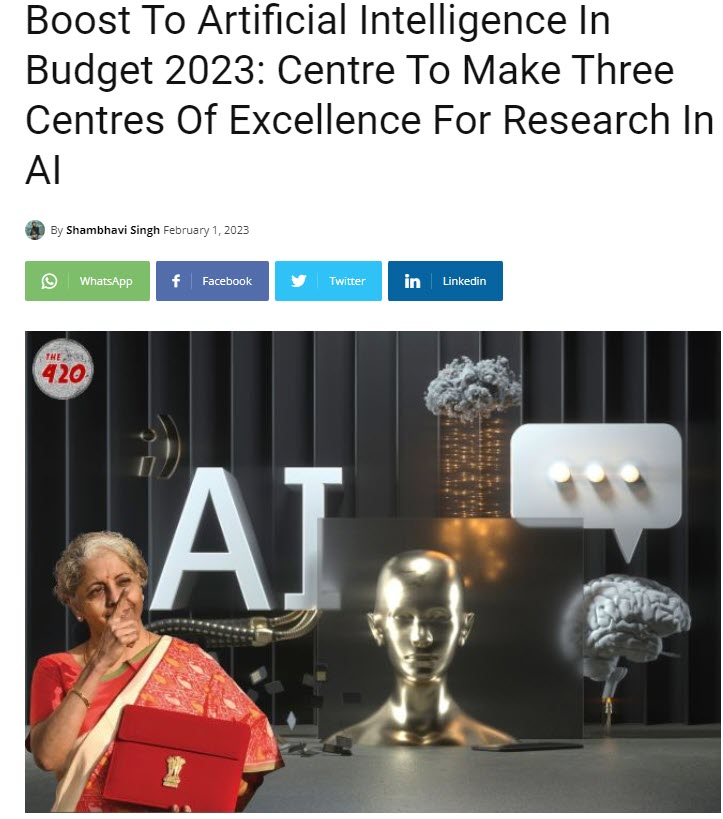 The AI project has multiple dimensions such as
a) AI research for developing Indian capabilities in developing Artificial Super Intelligence as a progressive scientific development.
b) Development of AI for Military and Law enforcement use
c) Development of AI for industrial/Business applications
d) Preventing AI from being developed as a threat to human race
e) Prevention of the use for anti-India activities.
We recognize that future development of AI will have serious impact on the national security and the research activities of these centers would have to be monitored properly and a selection criteria developed to approve projects like approving a project for nuclear research.
Hence before the Government starts funding AI development it has to ensure that an Inter ministerial committee involving MeitY, MHA, PMO are involved in setting the appropriate criteria to select eligible institutions as well as eligible persons to work in such institutions.
It is possible that such institutions will be immediately penetrated by anti-India forces  so that they can spy on the developments.
Hence  we need to develop a negative list of Universities which should not receive this funding. There are many other institutions which should be kept out of the eligibility criteria.
Secondly the individuals who work in these institutions such as the professors need to be carefully chosen with a proper background verification, failing which undesirable interests may usurp the key
positions.
The people selected should be  provided all incentives and protections to ensure that they remain loyal to national interests.
These centers should also be the places where we develop the principles of AI regulation starting with
a) Issue of AI development license
b) Need to incorporate AI development license ID in the set of codes developed
c) Adherence to the accepted ethical principles including documentation
Without accountability and Transparency, no activity should be supported in educational institutions with or without Government funding.
I hope these are incorporated immediately in the guidelines that may be developed during the debate on the proposals.
Naavi