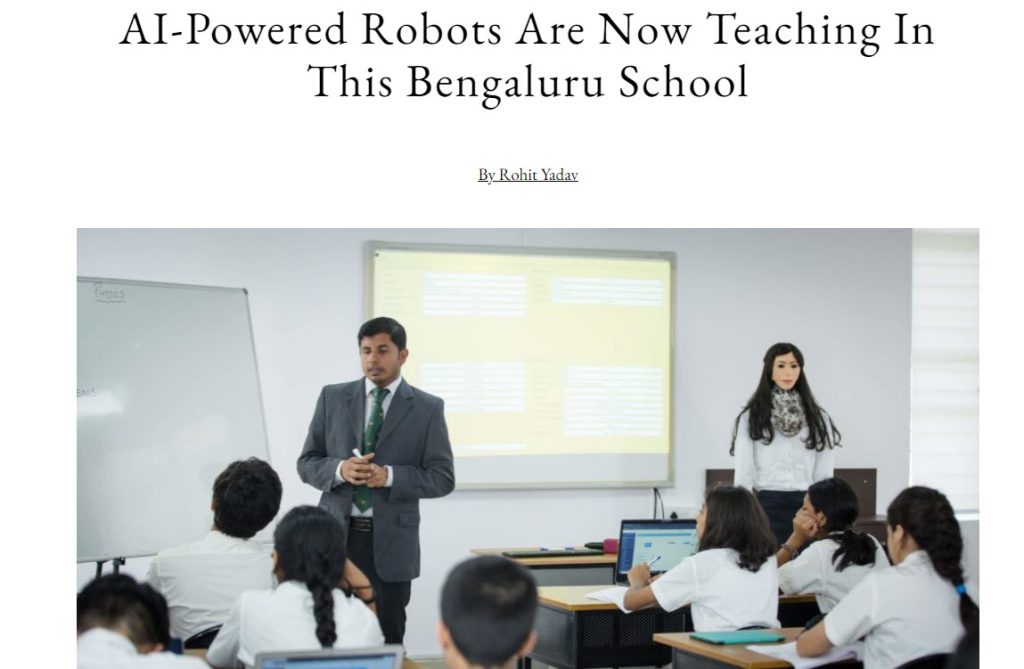 Indus International School in Bengaluru has been a technology innovator for a long time. It was an early adopter to the use of laptops/tablets for students and adoption of Cyber Security within their network.
Since last one year, it appears that the School has made further progress in digital revolution by using Teaching robots in the class. It is reported that the School has put in place more than 20 teaching robots to supplement the teaching staff. The team of robots called Eagle 2.0 is an ANI and can teach as well as answer questions on different subjects so that the physical time of the  human teachers can be more effectively deployed.
Just as use of computers in Banks enabled the employees to be re-deployed into marketing, the use of Teaching robots will improve the productivity of teachers relieving them of the time required to answer the queries of students and repetitive answering of the same doubts that arise for different students.
In this context the Robots could be accurate and help the students in many ways.
Now with the advent of  ChatGPT, there is a possibility of the knowledge being embedded in a Indus School app itself so that students can have a 24X7 assistance of its robotic teacher.
A New Cyber Vidya Project will be presented to the Karnataka Government now.
While we appreciate the innovative use of technology by Indus International School, it also raises the question that rise of ChatGPT type of AI models may reduce the need for formal teachers in the coming days. While Government may allow teachers to continue until retirement, new appointments could be curtailed.
Hence there is an urgent need to find alternate use of the teachers to develop content that can be embedded in AI applications whether in the form of physical robots or otherwise so that the profession of teaching is preserved albeit with an alternate job profile.
In 2009, before the Byjus kind of private sector services were in place, Naavi had proposed a project with the Karnataka Government for a Cyber Vidya project where a Virtual School support system could be introduced for all Government Schools. Unfortunately it was not accepted. It appears that the time for such Cyber Vidyalaya  has come now. I will be sending another proposal cum suggestion to the current Karnataka Government and let us see if it would be accepted now after 15 years of hibernation.
Evaluation of Students
While the ChatGPT or Eagle2.0 may replace traditional teaching in the class room, we also need to find out an alternative to our current system of evaluation.
With the potential use of ChatGPT, virtual tests are becoming a challenge. Though at present ChatGPT has low knowledge of India and is limited to 2021 data base, soon it will be made uptodate and will add India content also. After this, conducting online examination will be not be feasible where the answers are required in text form.
In the Cyber Vidya project of 2009, I had suggested to the Government a concurrent evaluation system of the students without examination. This is based on the gaming technology which also has advanced in the last 15 years. Hence the new Cyber Vidya project can involve this aspect also.
In the meantime, for immediate use of teachers to detect ChatGPT usage in essay writing, teachers can access ZeroGPT.com which is a free tool like plagiarism detection tools that can indicate if a text is generated through GPT. It may take some time for this tool to mature and ChatGPT algorithms like Sydney may try to improve their own responses to be less detectable by ZeroGPT, development of such tools and their refinement will continue and can be used by the teachers.
But sooner or later we need to replace our current educational model both for teaching as well as evaluation.
Since the next academic year is fast approaching, the Government has little time to loose and need to introduce a new Teaching and Evaluation System based on AI.
Let us see if the current Government responds to this suggestion.
Naavi