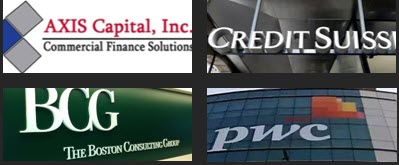 It is time for a PIL to explore the inconvenience and business disruption caused to customers of Citi Bank because of the acquisition of its consumer  business to Axis Bank. The damage caused to individual businesses whose cheques would have been returned and pending credits would have bounced etc  was entirely un necessary and reflects a failure of proper supervision of the entire process.
Perhaps an RTI on RBI is a starting point and some lawyer needs to take this case.
I refer to this post on Axis Bank website which states that the Acquisition of CitiBank Consumer business was handled by Axis Capital and Credit Suisse as financial advisors and Khaitan & Co as legal advisors. Additionally PricewaterhouseCoopers and Boston Consulting Group were involved as Business Consultants
I request that these professional firms need to explain to the public how they let the CitiBank fiasco to happen.
In cases of total merger of one entity to another such as Corporation Bank and Andhra Bank to Union Bank etc., the entire IT systems of one entity was transferred to the merged entity. Though there were technical glitches in migration, the old account numbers and chequebooks continued and there was not much of business disruptions like what the Axis Bank-Citi Bank deal caused.
I understand that in this case it was not possible for Citi Bank to provide control of its entire systems to Axis Bank. However it was possible to set up a middleware system which could have handled the customer issues over a period of time sufficient to allow the data to be  migrated. This was a technical failure and the financial, Business and legal consultants were incapable of suggesting this issue. There was a need for involving a Cyber Security and IT Consultant with experience in Banking in the process to handle the migration.
It also appears that this issue was handled as a business acquisition of a division and RBI has failed to exercise supervision. I request the Governor of RBI to initiate its own enquiry into the failure of its oversight mechanism.
It was clear to customers who had visited Citi Bank recently that Citi Bank executives were not even interested in suggesting continuation of the customer relationship and were happy to close the  accounts. This was indicative that they were not concerned either for their customers or for Axis Bank as their client.
While Axis Bank failed to market itself to the customers of Citi Bank, some card marketing activity continued on behalf of Citi Bank until a few days back.
The least that the two Banks could have done was to release a joint news paper advertisements to warn the customers to shift their accounts or face disruptions. Axis Bank should have setup a technical facility to migrate accounts if it required "Explicit Consent".
It is surprising that this Rs 12325 crore deal was handled so shabbily. While on paper the deal looked great for Axis Bank, it now appears that Axis Bank will fail to get all the 3 million customers of Citi Bank whom they could have happily acquired at one stroke. Shareholders of Axis Bank should question the management on this failure.
A statement from the top management of Axis Bank  on how and why they let down the erstwhile customers of Citi Bank is expected.
PS:
Some of my readers have pointed out that they did receive several reminders from Citi Bank and they exited from the Bank. It appears that several others found the notice inadequate and were taken by surprise.
Personally I had a Credit card account only and I continued to get reminders for renewal till a few days back which I simply ignored.
Whoever is responsible for the fiasco, there will be a debate on what is "Due Diligence" under such circumstances and whether there will be liabilities for some body on causing denial of service.
Naavi
I received the following experience from one of my readers on how he handled the 9th February issue.
Quote
It was not easy,  I spent 6 hours with them to get back my 9.75 lakhs balance
CITIBank initiated the consent obtaining process to switch to Axisbank 4 months ago but till 7th feb evening it was showing an option to remind me later.
On 8th evening I received a message Cheque-book and debit card deactivated, I thought Internet banking will be working and tried to login on 9th Morning but it was not working.
Call center was not accepting my account number as a parameter (Account deactivated) to access the customer support, but I reached the customer support with the lost card option.
Customer support informed; I will receive a demand draft of balance within 15 working days to the official address.
9th at 11 am I reached the South-end circle branch and found the branch working normal and still accepting cash deposits and many other activities, They gave a token number "A20" but it was looking like "420" 🙂
I was restless and started enquiring other members about their reasons and found more than 20 members waiting for the same reason.
I approached the branch manager and explained this is not a correct process and demanded to  re activate the account but they refused
Also they directed me to fill the "account closure request form" and "balance transfer request form",
I refused and mentioned I will go to the Police station and RBI banking ombudsman customer grievance cell.
Around 1.30 PM another senior manager approached me and assured me of the transfer of funds  to my alternative account within 2 hours. Once again he asked me to fill the account closure request form, I refused and filled only the "balance transfer request form" and reached back to my office.
Around 3.30 PM the NEFT fund transfer to my alternative account initiated and I got acknowledgement from my other bank around 6 PM
Funny part is my both CITIBank credit cards are  still active, I can use it  but I can't access my internet banking to manage my limits , enable disable card options of Credit cards.
I have seen branch staff including Branch manager were clueless on the chaos created somewhere in the boardroom.
I remember the CITIBank motto statement "CITI never sleeps" but now on "CITIBank customer also never sleeps" 🙂
Unquote