You have heard about CIPP or DCPLA or CDPSE. Each Certification has a value. Each has an objective to make you conversant with some aspect of Data Protection. But FDPPI-DNV's CDPP program is different. If it is supplemented with FDPPI-CLC's CCLP it is even better.
CDPP.CCLP program of FDPPI is a one of kind program that imparts expertise on the knowledge of Indian Data Protection laws, past, present and future, Key Global data Protection laws of the present, and the Indian Cyber Laws, past, present and future.
The program is conducted over virtual interaction as well as through recorded program.
Option is provided to take participation certificate without taking the examination. If an online examination is successfully completed, the participants can get the fully empowered certificate. The examination will also be online and would be proctored.
The faculty will be Naavi, one of the veteran teachers of Cyber Law and Data Protection in India.
The curriculum for the two courses are given below.
FDPPI-DNV Data Protection Program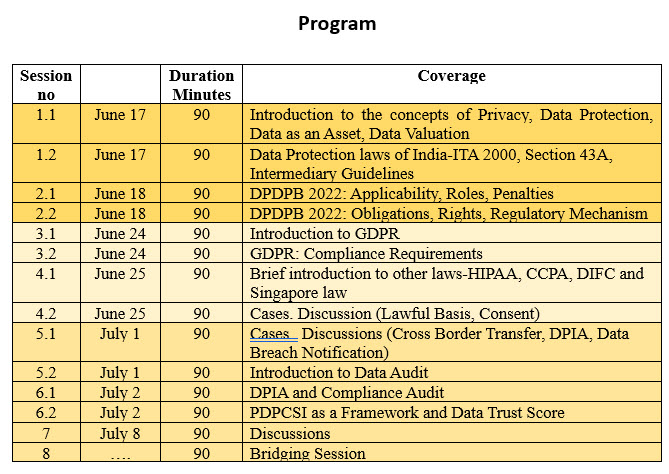 | | |
| --- | --- |
| | FDPPI-CLC Cyber Law Program |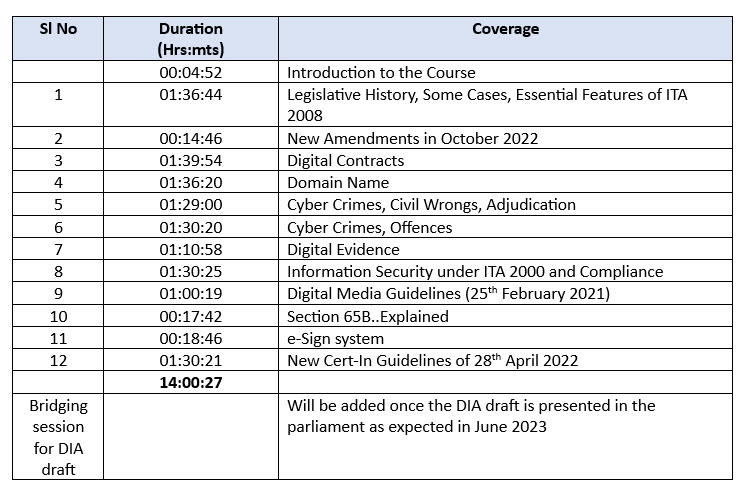 The Schedule for the program is as follows:
FDPPI-DNV Data Protection Program
FDPPI-CLC Cyber Law Program
10.30 am to 1.30 am on
June 17,18
June 24,25
July 1,2
July 8,9
Recorded sessions would be made available including some from outside the sessions on these days. Total Video content would be more than 30 hours.
Recorded videos for 14 hours plus interactive sessions between 3.30 pm and 5.00 pm on
June 17, 24
July 1, 2
The Fees for the programs is as follows:
Type
FDPPI-DNV Data Protection Program
FDPPI-CLC Cyber Law Program
Both Programs together
Participation only
35000
6000
40000
Examination
6000
2000
7000
Participation with Examination
40000
7000
45000
Basic Membership of FDPPI worth Rs 6000
Complimentary
Rs 5000
(valid for next 1 month)
Complimentary
Entry in the Indian National Register of Data Protection Professionals
Complimentary
Rs 3000/-
Complimentary
All Prices are inclusive of GST
Link for payment: (Chose the appropriate amount)
Kindly complete the form with information:
[formidable id=25]