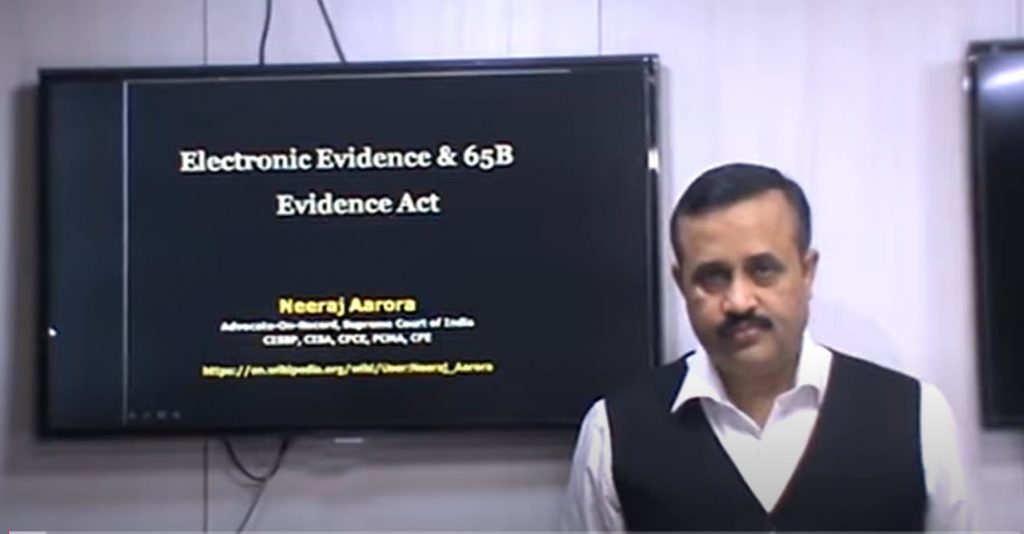 It was a shocking news to receive today that our friend and a Cyber Law expert Mr Neeraj Arora is no more. It appears that he had recently recovered from Covid but succumbed to cardiac arrest.
Mr Neeraj Arora was a specialist in Electronic evidence with his understanding of the law and also the practices in the law enforcement. He was also an excellent presenter and contributed to the growth of Cyber jurisprudence in respect of Section 65B.
He was one of the lawyers whom people in Delhi were afraid of while presenting Electronic evidence as he was one of the few persons who could trouble witnesses in cross examination.
His Linked in profile contained the following description.
"Mr. Neeraj Aarora is a practicing advocate, an arbitrator and a computer forensic expert.
He is AOR in Supreme court & Public Prosecutor with NIA and also on the panel of Controller of Certifying Authorities, Ministry of Information Technologies, Govt. of India.
He also being a technocrat, has developed strong dominion over Cyber, Law & Finance domains and has unique ability to integrate Bit & Byte, Debit & Credit with Law. His exposure as Defence Lawyer, Special Public Prosecutor, Law Enforcement Officer and Arbitrator give him an edge to appraise any case from all the perspectives.
He is law graduate from DU, a Fellow Member of ICAI and Certified Fraud Examiner from ACFE (USA). He has done PG Diploma in ADR, Cyber Law and Drafting of Legislation, Treaties, International Agreement & Contracts from Indian Law Institute, New Delhi. In technology domain, he has done PGD(Cyber Law), CEH, CHFI, CISA, CISSP & MBA (IT) apart from various other certifications on emerging technologies. He is also Certified Forensic Computer Expert from IACIS, a certification approved by Forensic Specialties Board (USA). He is also International Coach on computer forensic with International Association of Computer Investigative Specialist (IACIS), U.S.
He is the Managing Partner of his Techno Legal Firm, Hazen Legal Associates which is specialized into Criminal Law, Cyber Law, Digital Evidence, Privacy and other compliances under IT Act, 2000. His specialise to handle techno-legal issue in Courts primarily relating to Computer Forensics, Audio-video Evidences, Block-chain, AI, Machine Learning, Privacy, Robotics, Big-data, Drones, Data Protection etc.
Mr. Aarora is a visiting faculty on these techno-legal issues with Indian Law Institute, National Judicial Academy, National Law University, National Police Academy, Judicial Academies, NICFS, CBI, ISACA, ISC2 and various other institutes of repute.
He is also an Arbitrator & Member of Appellate Arbitral Tribunals at National & International Level. He has successfully handled more that 600 matters in mediation & given 300 awards as an Arbitrator & Member of Appellete Arbitral Tribunal and presided as Presiding Arbitrator in more than 50 cases.
Mr. Arora is the President of Cyber Research & Innovation Society which has been promoted by Mr. Aarora to promote the research & innovation on these techno-legal domains by bringing technocrat, legal professionals, researchers & users on one platform to develop the methodologies & remedies for safer use of these technologies by common man, stake-holders, industry & society at large."
I was privileged to have his voluntary endorsement on my Linked in profile.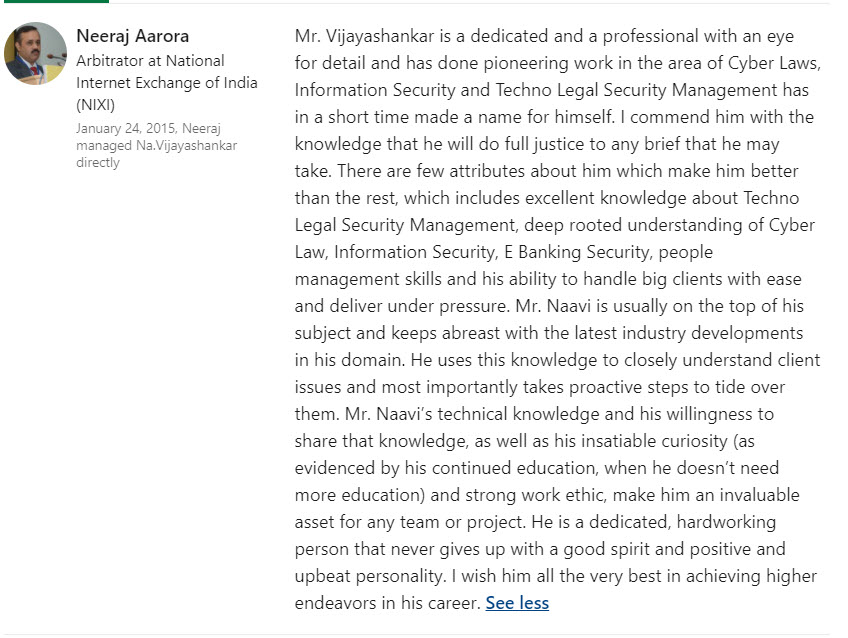 The last time we came across in the physical world was at NLSUI, Bangalore during a seminar in which both of us were speakers. I have lost a professional friend and his sudden demise is a loss to the field of Cyber Law.
Mr Neeraj Arora will be remembered through many of his videos which will remain in YouTube. Our heartfelt condolences are with his family.
I was working on the policies to be adopted by Data Fiduciaries to protect the data assets of a deceased data principal. It is time to dedicate the draft policy which is available  here in the CCLC (Cyber Law Compliance center) to his memory.
Naavi