In the recent days, Government of India came up with two notifications related to electronic gaming which needs to be taken note of.
E Sports
The first is the Gazette notification declaring e-Sports as a part of "Multi Sports Events" in the Ministry of Youth Affairs and Sports.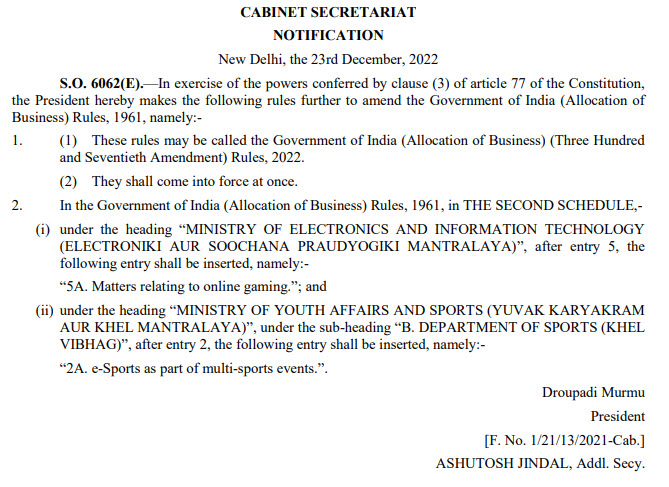 E-Sports is a form of competitive video gaming in which players or teams compete against each other. Globally many e-sports competitions do take place with good prize tags. One such popular  annual tournament is Dota 2 with a prize pool of $30 million. League of legends is another annual tournament. Fortnite world cup had a prize pool pf $100 million in 2020,Similarly, Overwatch world cup and Evolution Champion series are other examples of global e-sports competitions that happen from time to time.
In many countries, national sports authorities have started organizing such games and the trend appears to be growing.
Most of the online games that are presently played are shooting games and involve violence and fighting. The current tournaments are all such battle games which encourage a future society of  violence. It is no surprise that recently a 6 year old boy in Virginia shot his teacher and caused life threatening injury. Such incidents clearly indicate that the violent online games create an undesirable culture of violence in the society which we should guard against.
While Online gaming is a huge industry and the private sector would like it to be recognized, Government authorities need to be careful in encouraging such anti societal addictive forms of games.
Instead, the e-Sports authority should work with the gaming industry to develop other games that donot encourage violence and bad behaviour. Apart from "Chess" which is such a classic game amenable for online activity, fantasy versions of popular games such as Cricket, Football and Hockey can also be encouraged.
Card games like Rummy are already on the game parlours along with purely speculative games like Poker. Other skill based card games such as Bridge, "Twenty Eight" etc can also be converted into tournament games. They are also habit forming and perhaps even amenable to betting but are not as harmful as the shooting games in changing the psychology of children.
Additionally, traditional Indian games such as  Carrom, and even Chinni-Dandu or wrestling have the potential of being encouraged into tournaments that can be conducted by the National e-Sports authority.
Notification on Online Gaming
While encouragement of e-Sports in one of the recent developments, simultaneously the Government of India has brought out a "Draft Notification" on Gaming control under the Intermediary regulations as an amendment.
While many in the industry have remained silent on the e-Sports notification, there are severe criticisms on the draft rules for Online Gaming .
Encouraging e-Sports has to be happen along with the control on the misuse of online gaming and hence the two regulations have to be considered together.
The Online gaming control appears to address the concern on online betting and the use of "Online gaming money" as a store house of "Black Money".  Hence the main regulation is on "KYC" of the registered users on par with online Banking apps.
This is essential since most of the Game Money is linked to "Crypto Currency" and hence would be used to park black money by creating multiple users and holding lacks of rupees of game money in each of the accounts so that Black e-money can economy can thrive.
The copy of the "Draft Guidelines" is available here:
The guideline defines an online game as a "game with the expectation of earning winnings".
It also modifies the Intermediary guidelines of 2021  to include the online gaming content providers as "Intermediaries".
Under Rule 1(b) of the Intermediary rules, it was earlier stated that -the rules and regulations, privacy policy or user agreement of the intermediary shall inform the user of its computer resource not to host, display, upload, modify, publish, transmit, store, update or share any information that…
(ix) contains software virus or any other computer code, file or program designed to interrupt, destroy or limit the functionality of any computer resource;
This clause has now been proposed to be modified as under
(ix) is in the nature of an online game that is not in conformity with any law for the time being in force in India, including any such law relating to gambling or betting or the age at which an individual is competent to enter into a contract;
(x) violates any law for the time being in force;";
The above modification indicates that if the game violates any law for the time being in force, it shall be prohibited.
The rules however mandate that the hosting intermediary shall ensure that the online game shall be registered with a self regulatory body which shall be the control on evaluation of a game as  "Harmful" or not.
The guidelines also recognize  the possibility of the gaming company holding "Deposits" and not refunding it to the players and proper disclosures regarding the same.
The online gaming intermediary are also required to  prominently publish on its website, mobile based application or both, a random number generation certificate and a no bot certificate from a reputed certifying body for each online game offered by it, along with relevant details of the same. This is important to prevent frauds commonly indulged in by the gaming platforms.
The online gaming intermediary shall, also  at the time of commencement of a user account based relationship for an online game, identify the user and verify his identity:
…Provided that the procedure for such identification and verification shall, mutatis mutandis, be the procedure required to be followed by an entity regulated by the Reserve Bank of India under directions issued by it for identification and verification of a customer at the commencement of an account-based relationship;
….This is required to prevent storing of black money in Game platforms.
The online gaming intermediary shall enable users who register for their services from India, or use their services in India, to voluntarily verify their accounts by using any appropriate mechanism, including the active Indian mobile number of such users, and where any user voluntarily verifies their account, such user shall be provided with a demonstrable and visible mark of verification, which shall be visible to all users of the service:
Other requirements such as designation of a compliance officer, grievance redressal mechanism etc will be applicable like other intermediaries.
The "Hosting platform" will have responsibilities in ensuring this compliance and hence they need to revise their hosting contracts for gaming platforms to meet the requirements of this notification.
The rules keep the option of notification of any other game as an online game
—If the Ministry is satisfied in respect of any game made available on the Internet and accessible by a user through a computer resource without making any deposit, that
such game may create a risk of harm to the sovereignty and integrity of India or security of the State or friendly relations with foreign States or public order,
on account of causing addiction or other harm among children,
it may, by a notification published in the Official Gazette, for reasons to be recorded in writing, declare that such game shall be treated as an online game for the purposes of these rules, the provisions of which shall apply in their entirety or to such extent as the notification may specify, and it may further specify the period within which any intermediary offering that game shall observe the additional due diligence referred to in sub-rule (1) of rule 4A."
The guidelines envisage a "Self Regulatory Body" for gaming content providers which will be registered with the MeitY.
The Board of Directors of the Governing body of such self regulatory entity which may be Society shall consist of the following persons:
(i) an independent eminent person from the field of online gaming, sports or entertainment, or such other relevant field;
(ii) an individual who represents online game players;
(iii) an individual from the field of psychology, medicine or consumer
education, or such other relevant field; and
(iv) an individual with practical experience in the field of public policy,
public administration, law enforcement or public finance, to be nominated by the Central Government;
(v) an individual from the field of information communication
technology:
Every self-regulatory body registered under this rule shall evolve a framework to secure the said interests, undertake testing and verification to establish conformity of online games with such framework, continuously update and further evolve such framework, testing and verification protocols, and shall prominently publish the same on its website, mobile based application or both, as the case may be.
The draft guidelines are comprehensive and necessary and we should welcome them. However, it is not clear if the Government will have the commitment to notify it or like many other proposed guidelines this will either remain as draft guidelines or end up with the Supreme Court as violating the "Constitution of India".
Since the regulations are only introduced as "Intermediary" guidelines", there is no penal provisions directly attached to the guidelines.
If an unregistered body runs a gaming platform there should have been a provision to penalize it. Now it has to be covered under IPC as "Misleading" or "Breach of Trust" etc. May be some thought is required on whether the non compliance can be brought under Section 45 of the ITA 2000 (Residual penalty) so that atleast a nominal penalty of upto Rs 10,00,000/- can be imposed if an Adjudicator takes up suo moto action.
(More to follow)
Naavi
Also refer:
PS: Feedback can be sent to the Meity before 17/1/2023 on the website of MyGov (Refer here)