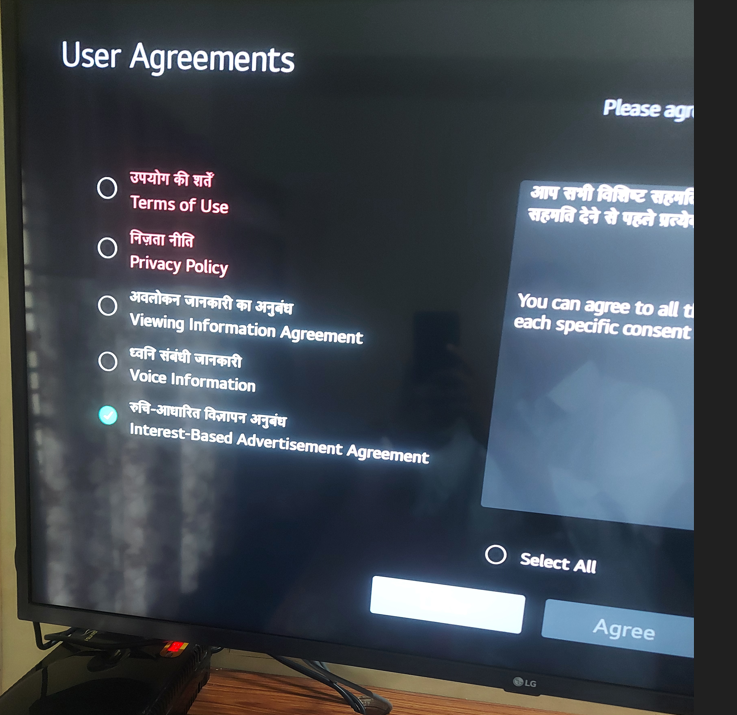 From Today, L G Electronics has introduced a new provision for access to the Smart TV feature requiring acceptance of 5 different agreements including the Terms of Service, Privacy Policy, Viewing Information Agreement, Voice Information and Interest based advertisement agreement.
Without accepting the agreement the part of the service related to access to apps are not available. hence it is causing denial of access to part of the service and this agreement is being imposed now though the TV was sold without this agreement.
Further the agreements are only available in Hindi and English after scrolling down. It is not convenient to read and accept the agreement as presented. Also there is no option to seek the information in  other languages as provided in the latest draft bill on Digital Personal Data Protection Bill 2022.
I am flagging this issue here so that at the appropriate time this can be addressed by the Data Protection Board.
A request has been sent to serviceindia@lge.com  to send me copies of  the agreement so that it can be studied further and whether the provision of advertisements in the content can be imposed by the hardware supplier.
This appears to be some thing like Microsoft displaying its advertisements when  you are using a Windows Computer. Some of the provisions included in the policies are not necessary for the provision of the services and are extraneous. There is also no option to opt out.
This needs further study by Privacy experts and the Ministry of Information and Broadcasting and Ministry of Information Technology.
Naavi
Reference