Cyber Law College which is the training partner of FDPPI (Foundation of Data Protection Professionals in India) is launching the next online program for "Certified Data Protection Professional" from June 17, 2023.
The program is being conducted on behalf of FDPPI and DNV-GL who will provide certifications for the participants and those who take an online examination.

The program will consist of 24 hours of online discussion on Saturdays and Sundays from 10.30 am to 1.30 pm as per the following schedule.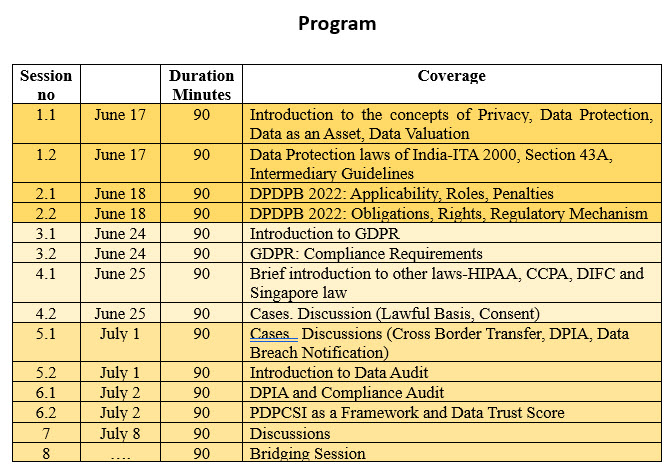 The training will be followed by an optional online Examination which will be optional.
All participants will be given "Participation Certificates" in the name of FDPPI and DNV-GL . Those who take the examination and complete it successfully will be provided the Certificate as "Certified Data Protection Professional" and would be featured in the "Register of Data Protection Professionals" created by FDPPI.
The Fee for the program is Rs 35000/- (Inclusive of GST)
Examination fee for Certification is Rs 6000/- (Inclusive of GST)
(If examination is taken along with the training, the total fee would be Rs 40000/- inclusive of GST)
The maintenance of the entry in the "Register of Data Protection Professionals" and complimentary membership (Basic No Voting) of FDPPI would be as per the rules of renewal by FDPPI.
Currently FDPPI is charging Rs 5000 and Rs 9000/- for entry into Level 2and 3 of the Register . Basic membership (Non Voting) is offered for Rs 6000/- (inclusive of GST) Those who go through this program and pass the examination will be eligible for waiver of the fee for Basic membership and registration in this register either at Level 2 or at Level 3 .
The total number of participants in this group may be limited. Hence early registration should help. Avail early bird discount upto 31st may 2023 in the form of waiver of examination fee.
Kindly register if interested here with payment.
Course on Cyber Law extended to Digital India Act
Cyber Law College has been conducting Cyber Law Course, details of which are available on www.cyberlawcollege.in. This is now been extended to the new Digital India Act that has been announced by the Government now. According to the announcement made by the Government, the draft of the new Digital India Act would be available in June 2023 and it will be discussed during this course as an extension.
This course will therefore be updating the professionals right from the day the draft is available.