New Draft on Jurisdiction under Hague Conference

A new draft on jurisdiction applicable for the enforcement of foreign judgments in civil and criminal matters has been released by the special commission of the Hague Conference . This convention on exclusive choice of Court agreements is meant to be applied to the states who are signatories to the convention. India is not however a signatory to the convention...Draft

Are You a Zombie?..Watch out..You may be Disconnected

Major ISPs in USA have called for policing of their networks and taking action against users who keep their computers unguarded and enable them to be used for spamming by others. There is a suggestion that the ISPs should track such Zombies and disconnect them It is estimated that such machines account for nearly 40 % of the spam.. Article in Washington Post

e-mail storage space in abundance

After Google announced the trial run of its free e-mail offer of space upto 1 GB, things are changing fast in the free e-mail service industry. While Yahoo and rediff raised their e-mail storage to 100 MB, Hotmail has now followed suit with an announcement that it would increase the storage space to 250 MB. Pressure will now be on VSNL to increase the mail space from its measly 5 MB.

Utah Law on Spyware

Utah is one of the US states which has passed a specific law against spyware. The new anti spyware law was recently questioned in an Utah court and a temporary injunction has been passed...Details

Nine out of Ten Are Negligent

In a recent study, PC World Magazine reported that nine out of ten discarded PCs in US have hard disks which contained sensitive information which could cause reputational and financial damage to the Company discarding the Computers. In India too several companies including the software biggies and the Government departments, abandon or circulate old computers without understanding the problems of data hidden in the hard disks. Some are satisfied with the simple deletion of files without erasing them properly. It is time that the use of devices such as ICS Wipe Masster are considered for securing information security. There are also some low cost software for similar purpose which can be considered by individuals. They may however not be upto Forensic standards and not as productive as hardware devices which will be ideal for large companies. ..Article in PC World Magazine

First mobile phone worm created

"The Cabir worm" is said to have been created as the first mobile phone worm which affects phones using the Symbian operating system and spreads via Bluetooth, which has a range of about 30 metres. Infected phones display the message 'Caribe' when turned on, and the worm then looks for other Bluetooth connected handsets nearby that will allow it to spread. Switching off Bluetooth can block the worm. So far no malicious payload has been identified with the worm.

However, it is not the first virus to target mobile phones. A computer-based virus was identified in June 2000 that sent unwanted text messages to mobile phones.The virus, called 'I-Worm Timofonica' or 'VBS Timofonica', was a VBS worm that used Microsoft Outlook to spread in a similar way to many subsequent viruses.

A society dedicated to serve the education and security needs of the Cyber Society has come into existence in Chennai today the 16th June 2004. Cyber Law College is an associate of the new society. Several prominent members of Chennai are expected to be part of this new organization.
Taiwanese Bank Fraudster Nabbed

A Taiwanese Bank fraudster who had stolen over 200,000 online bank account passwords was nabbed by the Police after a successful investigation where Police posed as hackers and gathered vital information during chat sessions....Report in chinapost

The fraudster in the above case used a mail in the name of Microsoft support to steal the passwords. This case is similar to the attempts being now made in India where false e-mails in the names of support teams of Banks are being circulated. Public should be vary of such spam.

Beware of This New Virus

Symantec has reported a new virus that has the potential to delete all files if the date is 6th, 13th, 21 st or 28th. This is a worm (VBS.pub) that arrives through an e-mail attachment with subject line Re: and an attachment with variable names. It affects Windows OS systems and does not affect Linux, Unix, Mac and Novell Netware systems. Refer here for information and removal

After Citi Bank. VSNL, it is now ICICI Bank

In the recent days e-mails purported to be from the institution to its customers asking for verification of customer's information etc with a view to steal passwords have been on the increase. Earlier Citi Bank and VSNL customers had received such mails. Now it has been the turn of ICICI Bank customers. ...Details at Sify.com

NASSCOM To Assist Police in Training

Nasscom is reported to have chalked out a plan to assist Police in Cyber Crimes by training their officers by security experts in the industry. The successful experiment in Mumbai is expected to be repeated in other metros. . ..Details in HT

It may be recalled here that Naavi has been engaged in the training of Police in Chennai over the last two years in Cyber Crimes Management.

NASSCOM Changes Views on Data Protection Act

For some time now, Nasscom has been advocating a "Data Protection Act" and there was news that a draft was under preparation. In what appears to be a change of heart, the present Nasscom thinking appears to favour the view that there is no need for a new law on Data Protection and some changes in the ITA-2000 itself can achieve the objectives...Report in ET

SC addresses domain name issue of Sify.com

Supreme Court of India is reported to have set aside a Delhi High Court order allowing continued use of the domain name stiffynet.com by Stiffynet solutions Pvt Ltd...Details at Sify.com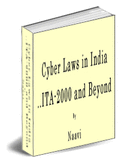 720 pages of Comprehensive Coverage on Cyber Laws
Naavi's "Cyber Laws in India..ITA-2000 and Beyond", first E-Book on Cyber Laws to be published in India consisting of 720 pages of comprehensive coverage on Cyber Laws and relevant issues, available for online purchase at RS 300/- in download form and at RS 400/- on CD.
For more information click here.
Low Cost Credit Card Clearance Service

---

---

If you would like to know more about Naavi, the information is available here.

For Any Payments to be made to Naavi online : Naavi_s Payment Center
---
---