Survey Frauds
When the undersigned started his journey of the Internet in around 1997, there was lot of optimism around. Internet at that time was considered a boon to the society and a great tool to collaborate. Amongst the several promises that Internet held, one was the development of home based employment opportunities. The ideal of sitting in some corner of India and doing work in another part of the country or the globe was a prospect with unlimited benefits to people with individual skills. It presented an opportunity for professionals to break the barriers of resource crunch in the physical world to set up virtual business or inability to move out from one physical location to another.
However, as the years passed, this faith on the Internet faded. As Cyber Crimes started raising their ugly head it became increasingly difficult to trust anything presented on the Internet. Home based employment was one of the casualties in this process. Today whenever anything good is written in any Internet site about home based employment, we need to take it with a bucket of salt.
When I started my activities on the dawn of this new year, I came across a news item "Unemployed Mother makes Rs 19,940/Month" .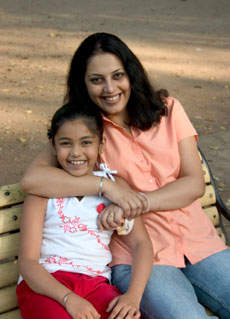 It carried a case study quoting an Indian name and presented a house wife by name Durga Mathur (see accompanying photo) who claimed to be making close to Rs 20,000/- per month in answering surveys.
The website carried a mast head "Business & Finance Job News" and carried a web name www.az-news.org and claimed "We investigate jobs that allow people to work part time from the compfort of their home..." and carried the story of this person along with a beautiful picture of the lady with her daughter.
There was also a copy of a cheque for US Dollars 32,290.05 with blanked out names drawn on Citi Bank. The cheque was dated July 27, 2009 where as the story was dated December 31, 2011 as if Durga Mathur had discovered the survey site recently.
The site also carried several other success stories and more than 50 comments again giving some photographs of people holding cheques etc.
The obvious next step was to find out which is this site from which Durga Mathur could earn Rs 1000/- per month so easily by filling up some survey forms. There was a link "Survey Income Kit" and when it was clicked, there was a warning from Mcafee Phishing Site Advisor that the site is dangerous and collects financially sensitive information. (See here)

When the link was followed, it reached http://www.surveys4checks.com/indexb.html which contained the details of the scheme. The membership would cost US$49.99 or Rs 2830.70.
I stopped my exploration here since at the next step I would have to make the payment and also provide my credit card details and with my pessimism corroborated by Mcafee Advise there was no way I could have continued.
However the thought of how the trust on Internet had eroded over the last 14-15 years of my Netizenship crossed my mind and I thought that it was my responsibility to bring this to the notice of the public.
On verification, the site surveys4checks.com was hosted from California and registered in the name of Mr Migdal Teffen with an Isreli address. The site az-news.org itself is registered with a Los Angeles address with the name protected.
It is obvious that this is a scam and involves not only the site owners but also the model in the picture and the financial intermediaries including payment gateways and Paypal who collect the money for the site. The site also posts Mcafee Alert and Verisign certificates.
It is interesting to note that if we click on the Macafee Alert on the website, it shows a postive report. But it appears that the report is not that of this site but that of another site namely clickbank.net. (See here)
While I advise readers to refrain from such sites, I wish that the law enforcement agencies in India need to take note of this kind of frauds and take preventive action. If DIT can launch an attack of Facebook and other intermediaries for defamatory messages, it should also be possible to take action against Paypal and other payment gateways which support such illegal activities.
This incident has been brought to the attention of Mcafee and Verisign and their responses are awaited. I have also requested for the address and contact details of Durga Mathur from the site and if made available, will check if the information given on the website is true.
[P.S: If any reader has an experience of an honest home based internet employment service, he may send the full details and after verification, the information would be shared with the public]
Naavi
January 01, 2012
Not sure if this site itself is reliable. My advice still is "Donot pay anything upfront unless you know the website owner in the physical world and therefore can verify the genuinely of the offer or that you are prepared to take the risk of losing the initial investment". When you part with your credit card/paypal details thinking that it would not be charged, then also there is a risk of identity theft as well as automatic debit which is difficult to recover...Naavi
More Home based business Scams
---