Persons interested in teaching Cyber Laws in Chennai, Bangalore, Hyderabad and Vishakapatnam may contact Naavi immediately.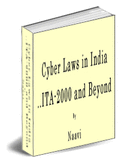 720 pages of Comprehensive Coverage on Cyber Laws
Naavi's "Cyber Laws in India..ITA-2000 and Beyond", first E-Book on Cyber Laws to be published in India consisting of 720 pages of comprehensive coverage on Cyber Laws and relevant issues, available for online purchase at RS 300/- in download form and at RS 400/- on CD.
For more information click here.
"Good Kid..But.."

FBI has traced Jeffrey Lee Parson, an 18-year-old high school senior school kid who released a variant of the Blaster Worm recently which created problems all over the world. (Full Story in Washington Post). He faces up to 10 years in prison and a $250,000 fine if convicted. One of the persons who knew the boy describes him thus. "He's your average high school kid who likes to play with computers, a good kid. I've never known him to get in any trouble at all,". Unfortunately, the sense of "Power" that can be exercised "anonymously" often creates such "monsters" out of "normal Kids". The society needs to understand this psychological phenomenon and take necessary steps to direct the energies of these intelligent young persons in a constructive manner.

e-ISA SIRC Inaugurated

The Southern Regional Council of e-ISA (e-Information Systems and Security Audit Association) was inaugurated today (August 29, 2003) at Chennai, with a seminar on "Building e-Customer Confidence". It was inaugurated by the Chief Justice of Madras High Court Mr Subhashan Reddy. Mr N.Vittal (Former CVC) delivered the valedictory address. Several eminent persons from the industry and Government addressed the participants. A copy of Naavi's presentation made for the seminar is available here.

Sobig Virus Source Traced

The Sobig variants of the virus which is said to have caused record braking infections all over the world has been traced to an adult photograph posted in an Usenet group.It is suspected that a home computer connected to the Cable modem which might have been hacked has been used for introducing the virus. FBI is investigating ..Details at yahoo

Microsoft Uses Linux to Protect its own servers

In what appears to be an embarrassing revelation, it has been reported that Microsoft is using Linux to protect its servers from DOS attacks. Though it appears strange at first, perhaps it is a well thought out security strategy of using a multi OS platform as a defense against attacks....Details

Are Common Crimes Less Punishable than Cyber Crimes?

I recall the case of the Balbharati school in Delhi where a student was rusticated from school for posting an obscene web document. On the other hand, the IIT Delhi students who physically assaulted a student and traumatized him, are let off with no punishment. (Expelling them form hostel is no punishment worth its name). This raises a fundamental question if law of the country has to be so discriminatory? Will the Delhi Police explain their stand? Will IIT Delhi explain if they have any vested interest in protecting the raggers?..Report in NDTV.com

Karnataka Setting up a Breeding Ground for Cyber Criminals ??

Sociologists will swear that a "Criminal" is not born as a criminal. It is the society which makes a person turn a disobedient person in the beginning and later instill a deviant behavioural trait which can make him a criminal in due course....With the level of frustrations that have built up in Bangalore this year, we can presume that the Engineering Colleges would soon turn out to be a fertile breeding ground of Cyber Criminals. I will not be surprised if Bangalore turns out to be the "Cyber Naxalite Capital" along with being the IT capital of the country....More
Pakistani Hackers Attack Indian Websites
On the eve of the Independence Day, it has been reported that a large number of Indian Government websites have been attacked by Pakistani hackers According to unconfirmed estimates, while the total number of defacements of Indian sites between January to July was around 750, the number of such defacements in August has been around 1000. ...Details at Sify.com
Hackers lift Finger Prints from Scanners
Biometric authentication systems are under threat with two German hackers claiming having developed a technique to defeat biometric fingerprint scanners used to authenticate electronic purchasing systems.Details at Securityfocus.com
"How To Make Bombs?"..Tutor Sentenced
An. U.S. District Judge Stephen Wilson sentenced a man (Sherman Austin) to a year in prison for creating an anarchist Web site with links to sites on how to build bombs. Details at Siliconvalley.com
Convergence on Schedule
The Communication Convergence Bill is languishing with Parliament for some time and there appears to be no immediate prospect of the law being taken up for passage. But technology seems to be moving ahead towards convergence faster than anticipated. The prospect of a handheld device functioning as a telephone, internet access device and a TV, besides a digital Camera appears not far off.... Details in ET
It is high time that the Communication Convergence Bill is taken out of the shelf soon and given a due consideration.
A Trojan Lands Netizen in Jail
A Netizen in UK,Mr Julian Green, 45 was found to have Child Porn material in his home computer and was arrested in October 2002. He then spent a night in a police cell, nine days in Exeter prison and three months in a bail hostel. During this time, his ex-wife won custody of his seven year old daughter and possession of his house. After all this tribulations, finally it was found that the offending files could have been dropped by a Trojan (11 Trojans which could have caused it was found on Mr Julian's Computer) and Mr Julian was acquitted. Mr Julian is reported to be thinking of suing the Police...Details in Zdnet,uk
It is high time Netizens as well as Police in India recognize such occurrences and Netizens should take steps to secure their computers while Police should ensure not to falsely implicate Netizens.
IIT Kanpur to Undertake Cyber Security Research
IIT Kanpur has announced that it has set up a research center for undertaking research on Computer security which will act as a nodal R&D center in the country for all aspects of Computer security besides developing tools and processes. Details in HT
Microsoft loses Patent Case for US$520.6m
Microsoft lost a Patent infringement case filed against it by a Company called Eolos Technologies Inc in 1999. The case involved the use of plugins and applets in the Internet explorer. The Court has awarded adamage of US$ 520.6 million (Rs 250 crores)... Details at HT
Time Somebody reminded UP Government about Digital Signatures
It is three years since Digital Signatures were legally introduced in India. Still the officials of UP Government seem to be unaware of the existence of this facility that can authenticate as well as maintain data integrity in e-mails.(as revealed by the recent directive from UP Chief Secretary advising all the officials not to rely on e-mails for any communication).
This is however not peculiar to UP. Even an advanced IT Savvy State like AP spends more in the E-Governance projects ignoring the benefits of Digital Signatures. Karnataka has implemented advanced E-Governance projects without fully accounting for the presence of Digital Signature laws. Even the Ministry of IT has not been able to integrate the use of Digital Signatures into their correspondence.
Ignorance about Digital Signature laws is therefore widespread and needs to be addressed immediately, if we want e-revolution in India. Recognizing the immediate need therefore to spread the knowledge of Digital Signatures amongst the public as well as the E-Governance officials, Naavi along with RAM Informatics Ltd, Hyderabad has planned to conduct a series of short workshops on Use of Digital Signatures in Chennai, Hyderabad and Bangalore in the first phase and at other places in due course. [For details contact Naavi]. Hope other interested Companies join hands to make this project a success.
Related Articles: Article in Statesman,
Parodic use of Trademark in a Domain Name
Often owners of domain names have been found to invoke UDRP when sites critical of the company or its products come up with websites sporting the brand names. eg: XYZsucks.com etc. A recent ruling in Paris Court (Danone v. Reseau Voltaire) has categorically opined that such parodic use of a trademark does not constitute infringement since the source of the product or service is not hidden. In this case the court stated that the use of the domain name jeboycottedanone.com, showed only an intention to criticize Danone's social practices, users were not mislead as to the origin of the criticism, and the trademark was not used by the defendant for commercial purposes. This is a welcome judgement for those who respect "Freedom of Speech" on the Internet.
Differing Views on Napster like operations
In an interesting judgement in a Norwegian Court, [Int'l Federation of the Phonographic Industry v. Bruvik, Lillehammer City Court (Norway, 2003)] the court determined that there was no liability for contributory infringement because users had downloaded songs for their private use, which is allowed under the Copyright Act. Considering the strict interpretations of DMCA in US courts, this should come as a relief to Cyber Law observers who will welcome more such Consumer friendly judgements.
It may however be noted that there are differing views on such cases elsewhere. A Tokyo court recently showed its disfavour for file sharing services and refused the argument that the service is like the service of an ISP. (Japanese Society for the Rights of Authors, Composers and Publishers (JASRAC) v. Japan MMO,)
In another similar case in a Spanish Court, the Court held that "Uploading of files" is equivalent to "Reproduction" and therefore it attracted copyright license. (Ediciones Musicales Horus v. Weblisten).
Which opinion is right in India?..is the dilemma of Indian Netizens. Obviously, the attornies have a wide variety of precedence to quote to suit their own point of view. Naavi reiterates the need for a "National Authority for IPR Protection in Cyber Space" or a similar agency is formed to codify standard interpretations to protect Indian Consumers and Business interests, the Indian Cyber Space will remain a minefield of unknown risks.
Cyber Negligence puts Indian Army in to Embarrassment
Hosting a website and not renewing the domain name often causes acute embarrassment to any organization. Yet another example of this has been reported from Indian Army which had abandoned www.vijayinkargil.com. Expectedly, the name has been booked by a Russian for hosting obscene content and search for Kargil information leads to objectionable stuff. .Details at IE
Indian Student in New Jersy falls into Police Trap
An Indian Student in New Jersy was trapped by a Special Police Task Force in an attempt to lure a 13 year old girl for sexual exploitation. ...Details in TOI
Government Reiterates the Role of CERT-IND for Website Blocking
The Government of India had issued a notification dated 27the February 2003 indicating the guidelines for blocking of websites in India and declaring CERT-IND as the nodal agency for the purpose. According to the TOI report, another notification GSR529(E) dated July 7 has now been released to reiterate the procedure... TOI report
Advertising Code?..or Section 67 of ITA 2000?
All sensible and responsible Netizens would like the benefits of Internet to reach their children at an early age but are unable to accept the present level of pornographic spam and uncontrolled chat options available on the Internet.
While controlling "Pornographic Content" on the web is one issue which has been dealt with in the past, it is necessary to draw the attention of the public to the abdication of community responsibilities by some large Internet players. Two such examples which come to our immediate mind are the India Times and Rediff web portals....
.... it is time for the Internet Advertising Community or in its absence the Industry organizations such as CII to consider an Advertising Code which should not only control the content of ad messages , but also the display of banner ads in pages where the content is not legal.........More
Microsoft.com Comes under DNS Attack
A Denial of Service Attack on Friday blocked the Microsoft.com server spreading fears that this may be a precursor to a larger attack on web servers on MS platform. ...Details at SNP
Provisions of Patriot Act Challenged in Court
American Civil Liberties Union (ACLU) has on behalf of several Muslim, Arab and refugee assistance organizations, charged in a lawsuit filed with the U.S. District Court for the Eastern District of Michigan, Southern Division that Section 215 of the Patriot Act violates the First Amendment by putting a gag order on ISPs and any other enterprise the FBI uses it on. Section 215 of the Act, gives the FBI powers to secretly procure records of people in the United States, including citizens and any company served with a Section 215 order is prohibited from ever disclosing that the FBI sought records from it. Details in SNP

---

---

http://www.naavi.com/is mirrored at www.naavi.org
---
---
If you would like to know more about Naavi, the information is available here.